---
---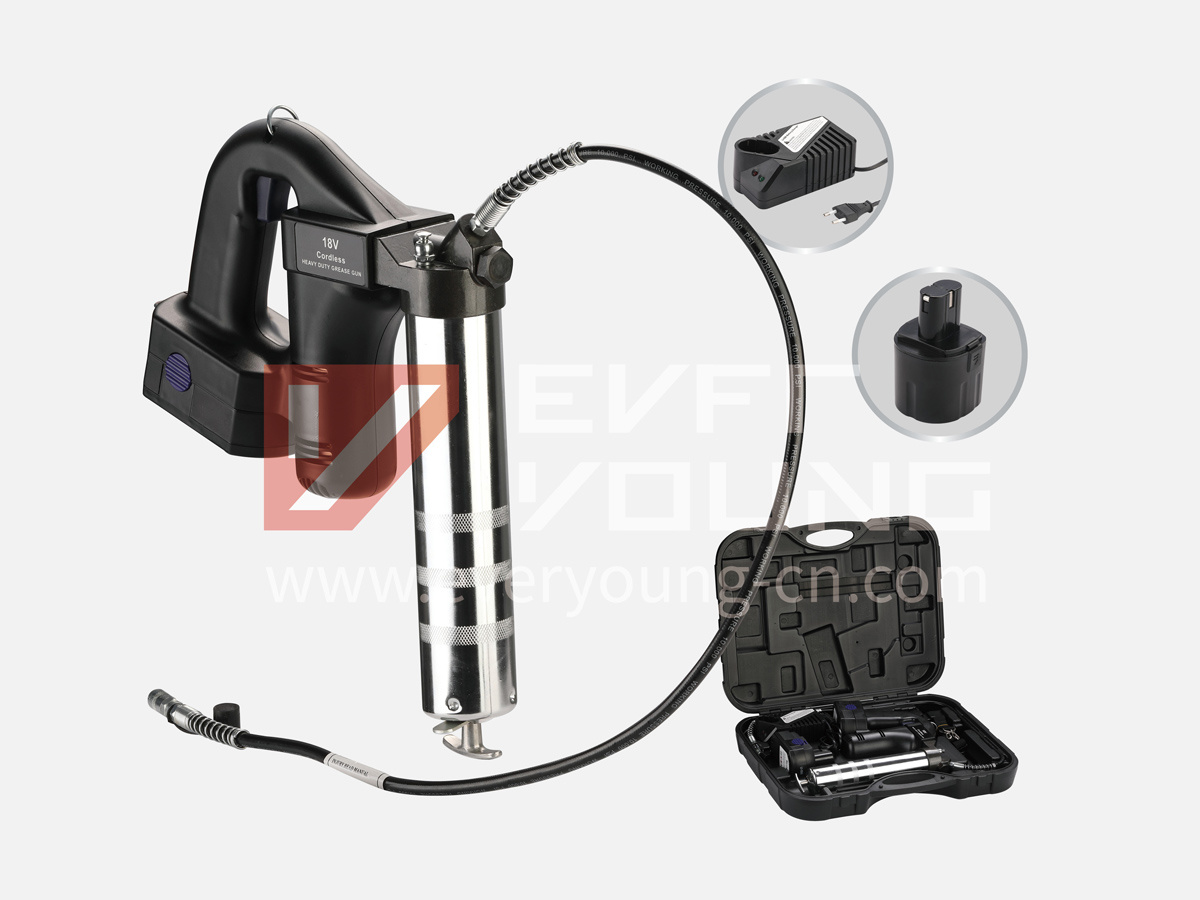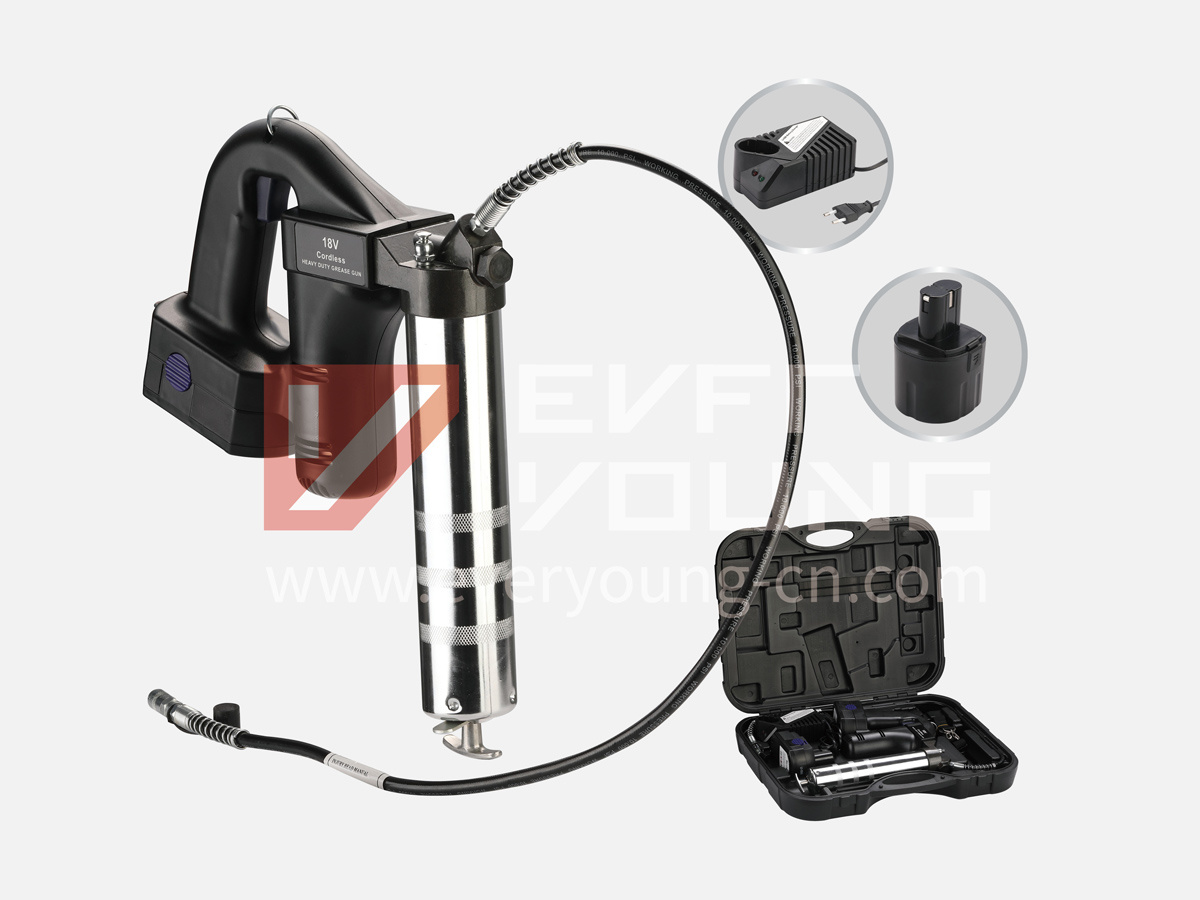 18V Cordless Grease Gun
Y-grease-3 and Y-grease-4
• Charger Input Power: 230~240 Vac/60Hz
• Battery capacity: 18V LI-ION battery 1500mAh
• Maximum working pressure: 10,000±1000psi
• Flow rate: 75±5g/min
• Reservoir: 14.5oz.
• Packing: Blow mold case with 1 battery (2 batteries) packs
• 1-hr quick charger
• carrying strap inside
• Inner packing: Blow molding case
• Outer packing: Carton
• 3/CTN 19/18KGS 57X35X46CM
Commodity name:

18V Cordless Grease Gun

Commodity ID:

I-002

产品型号:

Y-grease-3 and Y-grease-4

参数:

Y-grease-3 with 1 battery packs
Y-grease-4 with 2 batteries packs

Cordless grease guns don't have to be connected to a compressed air source to operate, so they can maneuver more easily than air-powered grease guns to access grease fittings in tight spaces. They are battery powered and dispense grease more efficiently and with less effort than manual grease guns. Cordless grease guns are often used for repetitive or frequent lubrication jobs on farms, construction sites, and other areas where a source of compressed air is not readily available.

• Charger Input Power: 230~240 Vac/60Hz
• Battery capacity: 18V LI-ION battery 1500mAh
• Maximum working pressure: 10,000±1000psi
• Flow rate: 75±5g/min
• Reservoir: 14.5oz.
• Packing: Blow mold case with 1 battery (2 batteries) packs
• 1-hr quick charger
• carrying strap inside
• Inner packing: Blow molding case
• Outer packing: Carton
• 3/CTN 19/18KGS 57X35X46CM
Y-grease-3 with 1 battery packs
Y-grease-4 with 2 batteries packs
Cordless grease guns don't have to be connected to a compressed air source to operate, so they can maneuver more easily than air-powered grease guns to access grease fittings in tight spaces. They are battery powered and dispense grease more efficiently and with less effort than manual grease guns. Cordless grease guns are often used for repetitive or frequent lubrication jobs on farms, construction sites, and other areas where a source of compressed air is not readily available.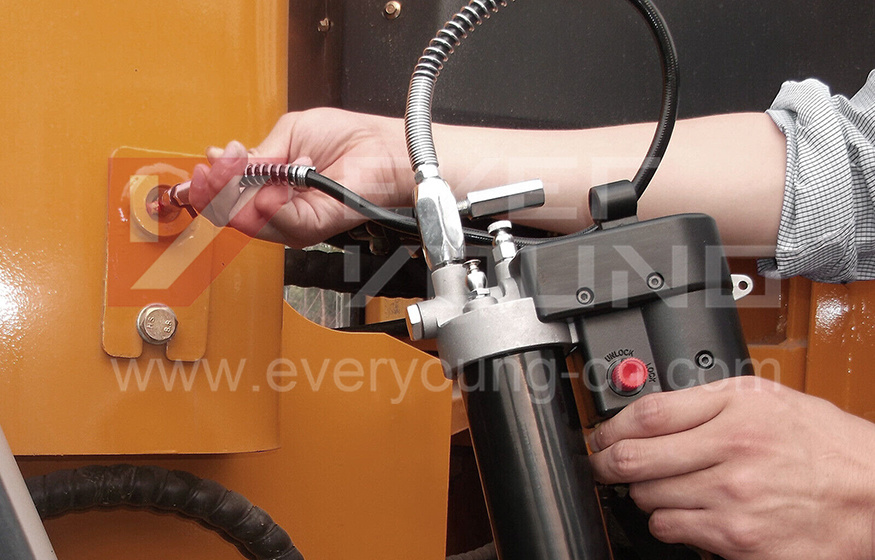 Get the most detailed information and recommendation from our experts within 24 hours.
★★★★★
Our vision is to offer the broadest range of Superior quality product and excellent services to enhance your success.
We aim to be the best in innovations, quality services and efficient delivery.
We assure you that we are the most advanced fuel solution provider for you in China.
Let's make more successful products together!